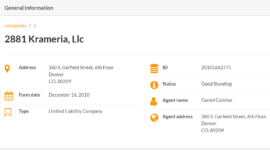 It's undeniable that the internet has revolutionized many aspects of daily lives all over the world. Access to information has never been as widespread as it is today. A vast amount of human knowledge might be available with just a few clicks, but the same doesn't always hold true for business data.
In fact, online business directories are notoriously difficult to make sense of. Their labyrinthine structures discourage users from learning more about their local markets. Moreover, data featured on such directories might be fragmentary or out of date.
Bizset is a platform which emerged together with a new standard for business transparency. Be it international corporations or small family companies, businesses today strive to develop meaningful relationships with consumers. All in all, companies are ready to share lots of information about themselves. This positive trend is reflected in the structure of Bizset, which is decidedly user-friendly and provides an enjoyable user experience.
Dedicated to providing consumers and professionals with key information about companies located in the US, Bizset is on its way to changing the quality of online businesses directory scene.
Who can benefit from Bizset?
Anyone interested in the American market will find the platform useful for any type of inquiry. Bizset can serve as a practical tool for job seekers who will be able to screen the company before applying for a position.
Journalists and researchers interested in market statistics will find this repository of data useful as well. All in all, any average consumer who wants to know more about a company should have full freedom to do so – and now they can, thanks to the ease of use offered at Bizset.
The importance of accessible business data
Business is practically based on trust. That's why transparency is a key ingredient to boosting the reputation of companies. However, the demand for quality business data still hasn't been properly met. It's enough to take a look at contemporary US businesses databases to get the idea. They're complex, vast and usually have low usability. If users somehow manage to find the company they were looking for, they might encounter incomplete business profiles.
Bizset is a platform which addresses this gap in the online directory market by offering all its wealth of data on well-structured and highly usable profiles. Searching for companies is easy and browsing search results doesn't depart from standards set by the most powerful search engines. Users of Bizset can be sure that all data is constantly updated and complete.
Checking all kinds of information about existing US companies is simple. Company profiles feature data such as the available website addresses, phone numbers and even a selection of company e-mails. Bizset also displays locations on an interactive map and in the future will feature other valuable information, such as data about patents or detailed company filings. Every single profile follows the exact same visual model, making it really easy for users to quickly make sense of the site and check information they were looking for.
Bizset is easily one of the most user-friendly directories available on the web. Complex company data is here simplified into clear and readable profile, offering good user experience and rendering any business search a piece of cake.