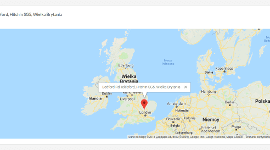 Anyone who has ever tried to match an address with a corresponding postal code knows how hard it is to find reliable sources of information online. Sometimes, what may seem like a simple research, turns out to be a marathon through different websites that contain outdated or incorrect information. We live in a digital era which means that everything can be found on the World Wide Web, however some searches require more time and effort than others.
There are numerous websites that act as postcode finders, however it often happens that the data they offer is outdated and basically useless. Every year in the United Kingdom alone as many as 2,750 new postcodes are created and 2,500 are terminated. Constant changes to postcode systems all around the world require regular revisions of databases containing information about addresses and postal codes.
Postcode-checker.co.uk is a brand new platform that offers unlimited free access to regularly updated and diligently verified postal codes covering UK and international addresses. This revolutionary platform was designed from the need to have just one, all-encompassing and reliable resource for matching addresses and correct postal codes. You no longer need to perform numerous web searches or go to multiple resources to find the correct postcode or full address of a company, public institution or an individual. All you need to do is to perform a simple address search on Postcode-checker.co.uk.
There are several ways you can use the site to your advantage. On the home page of the platform you can find centrally located search bar where you can input the address and in a fraction of a second you will be presented with a matching postcode. You can also type in the postcode itself and get a list of corresponding addresses. If you start typing, the algorithm will suggest the rest of the phrase automatically for your convenience. The site features an interactive Google-powered map that displays the location you put into the search bar. The users can also manually look up the postcodes by going through a smart index which features cities and towns from all over the UK, organised in an alphabetical order.
The platform uses up-to-date web design techniques for maximum comfort of the users. It is equipped with a supersonic search engine that retrieves only the most relevant results in a blink of an eye. This innovative database is designed with the use of complex solutions to aid entrepreneurs, business owners and individual clients in their online research, thus becoming the ultimate resource one might need to collect postal information. Additionally, the layout of the page itself is very modern and aesthetically pleasing which maximizes the end-user experience. Clearly, the developers have come up with a comprehensive virtual repository of knowledge that is not only extremely valuable in day to day life, but also pleasant to use and easy to navigate. And it is completely free of charge, which means that you can have this powerful tool always within your reach, so do not hesitate and bookmark Postcode-checker.co.uk on your smartphone or tablet today.